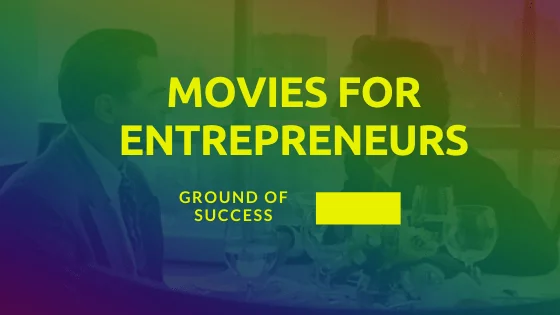 Has it ever happened to you that you are really demotivated and you watch a movie and after that you are completely energetic, inspired and motivated and all the tension gone? It sure does happen a lot to me. Whenever I am in a bad mood or I feel de-motivated, I turn on Netflix and start watching any random movie. Well watching movies give you some time off your work to relax and enjoy so why don't I suggest you some  inspiring movies for entrepreneurs which will inspire you, motivate you and I am sure, they will keep you entertained throughout.
I'm Now Sharing the Best Movies for Entrepreneurs: Lets Explore
"Never let anyone know what you are thinking".
Directed by Franc Ford Coppola, the American film focuses on the aging patriarch of an organized crime dynasty who transfers control of h clandestine empire to h reluctant son. It was adapted from the 1969 best-selling novel by Mario Puzo.
The story begins with Don Vito Corleone- the head of the Mafia family in New York at h daughter's wedding. H youngest son Michael also presents there who is uninterested in the family business but the family is interested in him to take over the business.
We find out that Vito very generous to those who respect him but he is very ruthless to those who don't. when a powerful rival decides to sell drugs, he needs Vito's permission to which he refuses. And hence begins a mob war and Michael drawn into it.
He manages to save the family and business but there is a certain price he has to pay. To know what it is, watch the movie here-
IMDB Rating: 9.2/10
Cast:
Al Pacino (Michael)
Marlen Brandos (Vito)
James Caan (sonny corleone)
Talia Shire (Connie)
Robert Duvall (Tom Hager)
Diana Keaton (Kay Adams)
John Cozall (Fredo)
Abe Vigoda (Tessio)
 Awards: 21 wins
Editor's Choice:
"The main thing about money is Bud, it makes you do things you don't want to do."
Directed by Oliver Stone, this film tells the story of Bud Fox (Sheen), a young and impatient stockbroker who is willing to do anything to get to the top, even if it includes selling important information by illegal means. Bud gets involved with Gordan Gekko (Douglas), a wealthy unscrupulous corporate raider.
The movie teaches us not to sell yourself and your morals for the sake of money.
IMDB Rating: 7.4/10
Cast:
Michael Douglas as Gordon
Charlie Sheen as Bud Fox
Darye Hannah as Darien
Martin Sheen as Carl Fox
Awards: 1 Oscar | 9 Wins | 5 Nominations
"An extremely funny white-collar satire filled with enough delightfully askew characters to pack a boardroom"
The true comic king of the cubicle hall has arrived in the form of Office Space, marking Mike Judge's live-action directorial debut.
The three company workers Peter, Michael, and Samir hate their jobs and decide to rebel against their boss. This movie strikes an achingly familiar chord with the 9-5 jobs, the world over. Do they remain at the job or get fired, watch below to know-
IMDB Rating: 7.7/10
Cast:
Ron Livingston as Peter
Jennifer Anton as Joanna
David Herman as Michael
Ajay Naidu as Samir
Awards: 1 Win | 2 Nominations
Pirates of Silicon Valley.
"Steve, all cars have steering wheels, but no one tries to claim that the steering wheel was their invention."
Directed by Martyn Burke, this film shows the history of the two most famous companies, Apple and Microsoft.
The story begins with Steve Jobs and h friend Steve Wozniak trying to build a computer that could be personal by creating an Operating System. At the same time, Bill Gates and his friends developed an Operating System and decide to present it to a company that needed their computers.
Steve Jobs was accused of stealing the idea. Can he come clean? Watch here to know more-
 IMDB Rating: 7.3/10
Cast:
Noah Wyle as Steve Jobs
Joey Slothick as Steve GatesWozniak
Anthony Michael as Bill
Awards: 2 Wins | 4 Nominations
"Anybody who tells you money is the root of all evil doesn't fucking have any."
Welcome to the infamous "boiler room", directed by en Younger, where twenty so millionaires are made overnight.
Seth Davis, a man with a dream to make money. He runs an illegal casino out of h house. H father, who a federal judge, isn't too happy with it. So, when Seth gets an opportunity to become a stockbroker, he takes it, hoping to earn a lot of cash and win back the respect of h father. Unfortunately for him, the firm has a few secrets which may or may not lead to trouble. Watch the movie here to know more:
IMDB Rating: 7/10
Cast:
Giovanni Ribi as Seth Dav
Vin Diesel as Chr Varick
Nia Long as Abbie
Nicky Katt as Grey Weinstein
Awards: 1 Win | 9 Nominations
The Pursuit of Happyness (2006)
"You got a dream… You gotta protect it. People can't do somethin' themselves, they wanna tell you you can't do it."
Directed by Gabriele Muccino, this movie received an award for the best breakthrough performance. It inspired by the true story of Chris Gardener, a San Francisco salesman struggling to build a future for himself and his five-year-old son Christopher.
When his girlfriend Linda walks out, he is left alone to take care of the kid. His determination finally pays off when he lands an unpaid internship that only one out of so many people get. But with no money he and his son go through a lot of struggle.
Will he overcome all the obstacles and reach his destination? Watch here to know
IMDB Rating: 8/10
Cast:
Will Smith as Chris
Jaden Smith as Christopher
Thandie Newton as Linda
AWARDS: 12 WINS | 25 NOMINATIONS IN TOTAL INCLUDING ONE FOR OSCAR
Flash of Genius (2008)

Directed by Marc Abraham, this movie focuses on the true story of a college professor and a part-time inventor, Robert Kearns fighting a battle with the US automobile industry.

The invention was a big hit with a budget of 2 million USD. It teaches us that sometimes to receive recognition, you might need to pay a heavy price. Watch the movie to know what price he has to pay:

IMDB Rating: 7/10

Cast:

Greg Kinnear as Bob Kearns
Tim Eddis as Maryland cop 1
Warren Belle as Maryland cop 2
Karl Pruner as Pete

Awards: 1 Win

To Know More: Visit Inspiring Movies for Entrepreneurs