Abu Dhabi is famous for its adventure, phenomenal infrastructure, extensive deserts, luxury activities, beautiful beaches, and rich heritage. Being the capital of the UAE, the city is brimming with culture, history, and modern tech-based buildings. That's why the place has become a tourist paradise for travelers. When exploring this beautiful city, you get to see many amusement parks, gardens, shopping complexes, and exciting places. The place has several unique attractions and many places for kids' activities in Abu Dhabi.So, here we've listed some of the best places to explore in Abu Dhabi that you need to visit. So, let's begin the journey.
Louvre Abu Dhabi
Louvre is a wonderful museum in Saadiyat Island Cultural District. The museum is open for travelers to take a glimpse of art and civilization. Moreover, the museum also has impressive architecture, which boasts a unique web-patterned dome. The design gives an eye-soothing effect of 'rain of light'. From famous Picasso paintings to ancient Egyptian statuary art galleries, everything is mind-boggling here. The museum is one of its kind to be opened in Abu Dhabi. However, the place remains closed on Monday, so make it a point to visit on the other days.
Sheikh Zayed Grand Mosque
The Sheikh Zayed Grand Mosque is the biggest mosques in the UAE and one of the biggest in the world. The mosque is constructed with modern marvels and designed with Islamic architecture. Sheikh Zayed Bin Sultan al Nahyan built this building in memory of his loving father. This place is a cultural hub and educational site where people can learn about Islamic culture. The exquisite design and glamorous architectural pattern make it the most attractive tourist place.
Ferrari World Abu Dhabi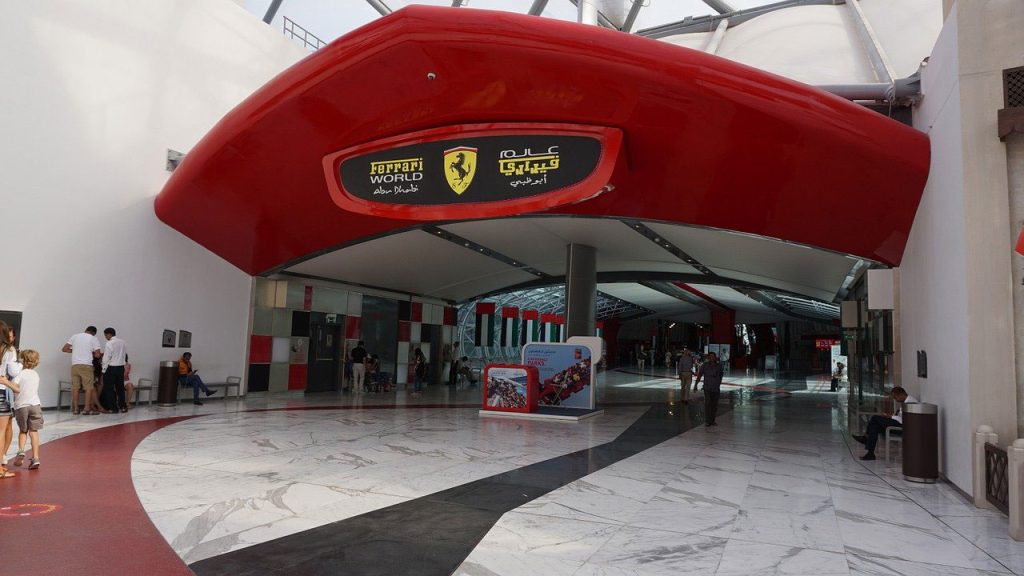 The Ferrari World in Abu Dhabi is the best place for thrill-seekers. Adventure and speedlovers will enjoy riding on Formula Rossa, the fastest rollercoaster in the world. Moreover, the amusement park has a unique collection of amazing Ferrari car models. You can also watch endless games and take a tour of the Ferrari factory. Ferrari world is also the best for kids' activities in Abu Dhabi. Besides roller coaster rides, this theme park also hosts events and has numerous restaurants and shopping places where visitors can purchase various Ferrari products.
Yas Island
Yas Island is the best destination to explore if you're planning to visit the UAE. This beautiful destination has a long stretch of white sand beach, perfect for sunbathing and other water games. In addition, the place has Yas Marina Circuit, where you can enjoy watching formula one car races.
Visitors can head straight to the Yas Mall, one of the biggest shopping destinations in the UAE. However, if you want to avoid the scorching heat of the sun, then head forward to Yas Waterworld. This theme park had more than 40 rides and water slides. It will be a lot of fun when you get an opportunity to surf on the largest sheet waves.
Etihad Towers' Observation Deck at 300
The Observation Deck at 300 is one of the famous places in Abu Dhabi. It gives a 360⁰ view of the city. The observation deck was situated on the 74th floor of the Jumeirah at Etihad Tower 2. Moreover, you can also watch the beautiful scenic view of the seafront side. Visitors can use binoculars to have a closer view of the Arabian Gulf and skyline. This deck is 300 meters above the ground, making it the best place for sightseeing. The entry is free for the visitors, so you can visit it to have an excellent view of the city.
Warner Bros World Abu Dhabi
Warner Bros is the relatively latest theme park in Abu Dhabi. The amusement park offers live interactive shows, 29 rides, fascinating attractions, action-packed activities, shopping outlets, and food restaurants. In addition, the place offers many kids' activities, making it an ideal place for kids' enjoyment. This theme park has six themed zones such as Dynamite Gulch, Bedrock, Cartoon Junction, Metropolis, Plaza and Gotham City, and Warner Bros. Children not only get to enjoy rides based on their favorite shows but also get to meet their favorite cartoon characters. It's the perfect family place to visit.
Emirates Park Zoo
Emirates Park Zoo allows you to get close to wild creatures. Here, you get to see more than 1700 animals, out of which some of the species are elephants, rare white tigers, Siberian bears, and a herd of zebras. This park also has a section of primates, which includes different types of monkeys and a Flamingo Park, where you can watch the graceful flamingos and interesting group of sea lions as well. The park also has a petting zoo, where kids can feed and touch some domestic breeds available here. Moreover, there are a lot of fun activities, such as breakfast with parrots, encounters with animals, and even crocodile feeding that you can experience here.
Desert Safari
Desert Safari is not to be missed when you are in Abu Dhabi. The overnight trip to the desert safari can fill you with a lot of excitement and adventure. In the desert, you can enjoy camel riding, sand boarding, quad biking, desert dining, dune bashing, etc. You also get the chance to gaze at the twinkling stars right from the desert. The desert safari is best to be enjoyed with family and friends.
Abu Dhabi Heritage Village
Do you want to witness the life of the typical Emirati? Then, let's visit the Abu Dhabi Heritage Village, one of the best tourist attractions in the UAE. This is a reconstructed village with a big fort walled from all four sides, a mosque, and a souq for gold trading. Some of the best tourist attractions here are spice shops, carpet weaving displays, pottery, and campfire and metal workshops. Moreover, the village also has a small beach strip where you can relax and spend a wonderful time in the evening. This will be a perfect place to know the Arab traditions and history.
The National Aquarium Abu Dhabi
Last but not least, the National Aquarium Abu Dhabi is the best place to visit with your kids. It is the latest attraction to have opened in Abu Dhabi and is touted as the largest aquarium in the world. Here you get the opportunity to enjoy the water world and creatures. With more than 10 zones and over 46,000 marine animals belonging to 330 species, the National Aquarium Abu Dhabi has already become a favorite amongst locals and tourists. So, do buy an Abu Dhabi aquarium ticket and indulge in the magnificent beauty of the underwater world.
Conclusion
Abu Dhabi has endless places to explore, but these are some splendid attractions that are a must-visit. In addition, you can visit Saadiyat Island, Emirates National Auto Museum, Kidzania, and Mangrove National Park. So, plan your trip wisely and tick mark these beautiful places to visit in Abu Dhabi.